Blackburn Customer Claims First Prize
Our current Soudal promotion is in full swing, with fantastic products on offer and a once in a lifetime opportunity to win VIP trip to Paris to see the final stage of the Tour de France. An absolutely un-miss able occasion for any cycling fan! Much like our last Soudal competition…

Flashback to last year in the midst of summer and our Soudal promotion, GAP Blackburn's own customer, Daniel Nutter won the top prize in a nationwide competition celebrating the Tour of Britain.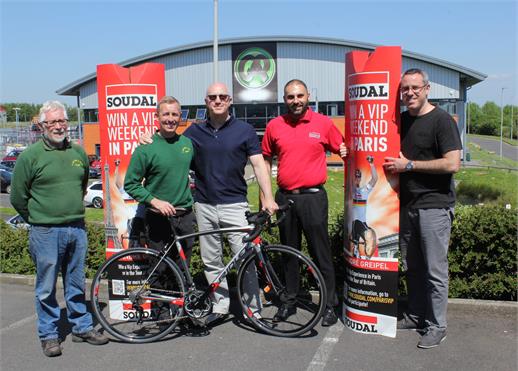 Daniel won his prize on a scratch card included with the Fix ALL triple packs on offer during the promotion. The prizes ranged from drinks bottles to cycling shirts, with the top prize being a Ridley Fenix SL bike.

Last week we finally got to award Daniel with his prize! The bike is the top model in the Ridley range and used by the entire Lotto Soudal cycling team. Worth over £2,000, the frame is perfectly suited to Daniel's measurements. On hand to present Daniel with his prize was Soudal's Business Development Manager Paul Naish, GAP's Sales and Marketing Director Paul Sowerby and Marketing Manager Chris Hall.

Daniel is a regular at GAP Blackburn and we couldn't be happier for him! Overall GAP had 167 winners, which is more than anyone else in the industry and this year we hope for even more!

The second part of our Soudal promotion begins on July 10th and runs alongside the Tour of Britain.

This year will see instant wins on offer, eliminating the wait for prizes. As usual, Soudal will be touring select depots up and down the country with their road show, showcasing their top of the range products to GAP's customers. Of course, their bike simulator will be coming along again, to create some healthy competition within the depots!

Keep an eye out for upcoming details about the promotion and to find out which lucky depots will see Soudal on the road!