GAP Huddersfield Roofing Demo Day
This Thursday 9th March, GAP Huddersfield will host a roofing demo day, open to the trade, where suppliers will demonstrate their latest products.

From 10am till 2pm, Industry leading roofing brands Permaroof, Easy-Trim and Ariel will be showcasing their products whilst also giving training and useful hints and tips to visiting customers.

Easy-Trim will be giving a demo of their Easy Ridge Kit. It is manufactured to be quick and simple to fit, with long term durability. GAP supply the product in 2 colours, terracotta and black. Ariel are showing off their Mardome Rooflight. Available in 6 different sizes, it is the perfect product to transform flat roofs or conservatories, creating a light, bright and open environment. And the icing on the cake, every fitter that attends Permaroofs Firestone RubberCover demo, will receive a 20 year membrane Warranty for every RubberCover they fit in the future.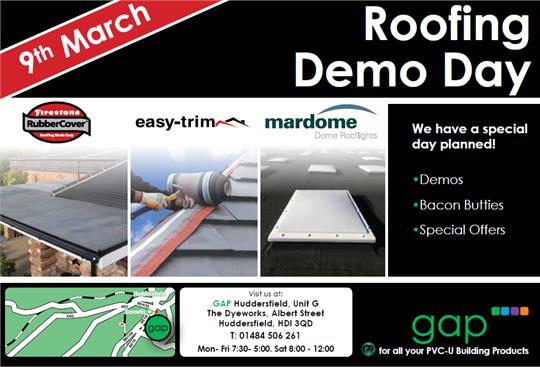 Not to mention the free bacon butties of course and giveaways throughout the day, it's certainly an event you can't afford to miss!

Stop by the depot to find out more about the products and grab a bargain! Whilst there, customers are welcome to take a look around the brand new depot and take advantage of the biggest stocks of uPVC building products around!
Located at the Dye Works on Albert Street, HD1 3QD.