Rockdoor goes Mobile
Rockdoor, GAP's sister company, is delighted to announce the launch of a new mobile website m.rockdoor.com.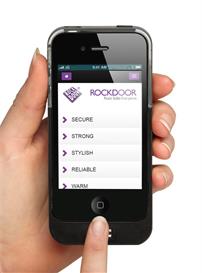 This new website is designed to tailor the experience for homeowners, who are searching for the UK's most secure composite door Rockdoor on their mobile phone or tablet device.

The new mobile site for Rockdoor is now easily accessible on a wide range of internet enabled mobile devices, including the latest generation of smartphones and new tablet devices.
"A huge proportion of visitors to our site now use smart phones or tablets, so we wanted to create an 'easy to use' site that highlighted why Rockdoor is the strongest and most thermally efficient composite door available." commented Chris Hall, GAP's Marketing Manager. "We also expect to see a large increase in homeowner enquires, in addition to the large number of leads already generated, which are then distributed free of charge to our customers across the country".

Once on the new mobile site homeowners can flick through the various sections according to what's important to them such as security, style or thermal efficiency. They can also click through our gallery and choose a composite door to suit their home within 3 easy clicks.

Customers that still want to browse our full desktop site can easily click on a link which will take them to Rockdoor.com.