Soudal Tour of Britain Underway
The Soudal UK Gap Depot Tour has arrived.
In a matter of months the Official Lotto-Soudal team will be embarking on the forthcoming Tour of Britain cycling event. To celebrate this, co-sponsors of the team and silicone & sealant giant Soudal will be hosting a road-show at several GAP depots throughout July and August.
Soudal are already established as Europe's leading independent manufacturer of sealants, but the idea for the depot tour surfaced to connect the brand with local GAP customers.
GAP's fitter-friendly UK depots are the perfect outlet to promote their top quality products; showcasing how they can be used across various building applications.
On the tour, Soudal will be accompanied by other suppliers such as Fitrite, Easy-Trim, Permaroof and more big names, providing demo installations and tips on their products. For those looking for a bit of competition, Soudal will also be bringing an Official Lotto-Soudal Pro Bike Simulator for tradesmen to test their cycling speed against each other – not to mention the great offers on Soudal products and plenty of giveaways to grab.
See below for the full list of locations taking part in the Soudal promotional days.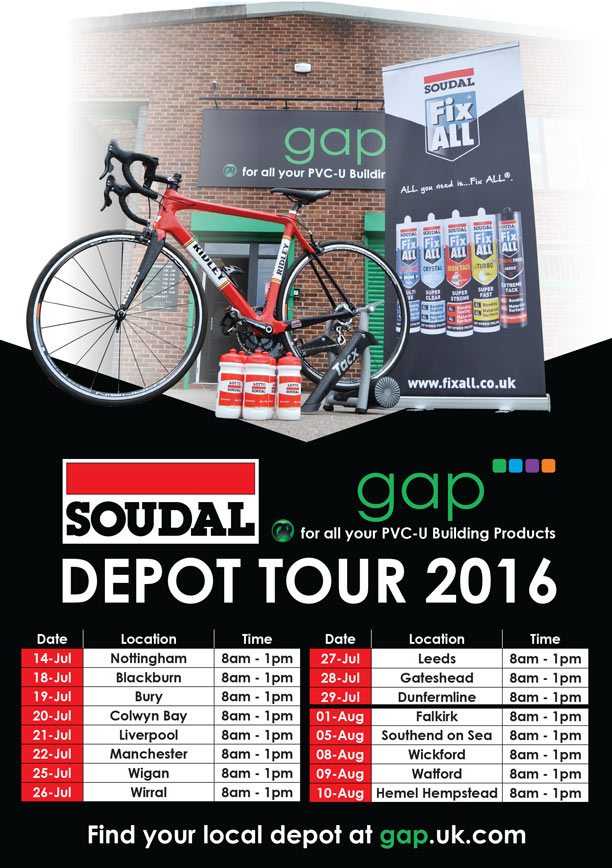 Competition Time: Win a Seat on the Bus
Don't forget about our competition with Lotto-Soudal too… buy any of our GAP Cleaners or Fix All Triple packs between 11th July – 19th August for the chance of winning a seat on the Lotto-Soudal team bus – more details on the competition here.
Want to know where to find us? Find your local GAP depot on our Depot Network page.