The New & Improved GAP Ipswich
We're delighted to announce that our new Ipswich depot has received a complete trade counter transformation. And what a difference it has made.
Following the acquisition of SIG Building Plastics and SIG Windows over 6 months ago, we travelled the length and breadth in Britain 'gaptising' our new depots with new and improved signage to look part of the GAP depot family. With this stage coming to an end, we're starting to look at renovating the inside of each depot to make it look and feel like a true GAP depot in every sense.
Ipswich was chosen as the first of many depots to receive the full 'fitter friendly' GAP trade counter for many reasons. Prior to becoming an SIG Building Plastics, the depot was the Head Office of the well-respected Omnico business, meaning the reputation, location and size of the depot are all second to none.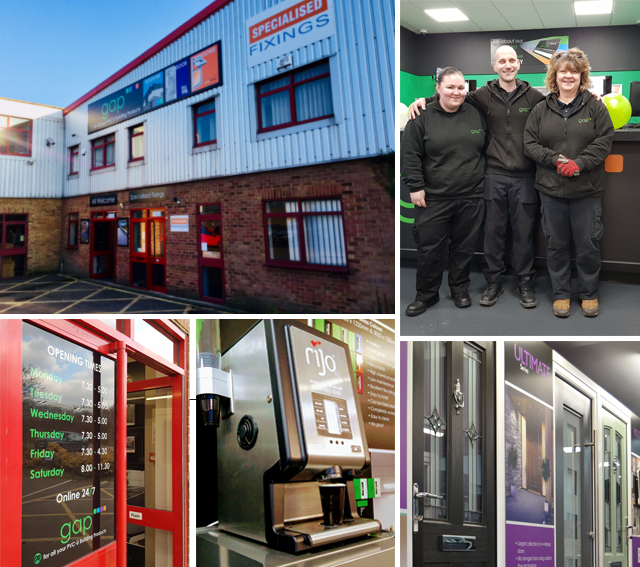 So it seemed like a logical place for us to start, in restoring it towards becoming East Anglia's largest stockist and distributor of PVC-U Building Products.
The depot has been transformed with a new fitter friendly trade counter, showcasing our range manufactured products including Homeline Roofline, HomeFrame Windows, Rockdoor Composite Doors, Polycarbonate and Hygienic Cladding.
In addition, GAP Ipswich also showcases our range of bought-in distributed products such as KAT Aluminium Bi-Folds, Eagle Liquid Membrane, Firestone RubberCover and Soudal Silicones.

The depot is led by manager Nick Nott, with Denise and delivery driver Ashleigh completing the team.

Call to meet Nick and his team at Units 9 & 10 Sovereign Centre, Farthing Road Industrial Estate, Ipswich, IP1 5AP and grab a free brew too.
www.gap.uk.com/depot-network/ipswich