Christmas comes early for Conservatory Roof installers.
In the run up to Christmas, GAP is offering to beat any 'like for like' conservatory quote to allow installers to put the new Zoom Ready Conservatory Roof System to the test.
Simply fax over any quote you have already received to 01254 286 090.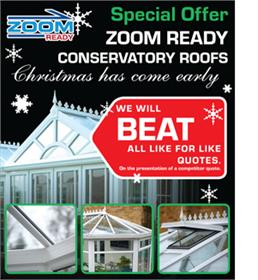 The Zoom Ready Conservatory Roof system provides installers a fresh & innovative solution in today's competitive conservatory market. Zoom Ready's conservatory roof kits are designed to be the easiest and quickest to install. They have good looks, long life and great performance. Uniquely, Zoom roofs are designed to eliminate glazing slip and leaks. They are site adjustable and can be installed by one person. Zoom's latest brilliant idea is Zoom Conservatory Glass - Relax 365, a high performance, competitively priced range of glass that comes with the roof. Zoom Ready is the first conservatory company to offer roofs with glass as standard to save installers the hassle of sourcing glass from another supplier.
Features & benefits of Zoom Conservatory Roofs:
No more glazing slips thanks to patented glazing stop.
System design for a one man fit
Deep flow conservatory box gutter
No more leaks thanks to patented system
Minimal silicone required
Limitless design options
Fast fit radius to hip bar
Fully on-site adjustable
Simple jack rafter assembly
One eaves assembly
One ridge suitable for different pitches
Only one size of fixing nut
Internal cladding trims
Concealed tie bar fixing point
Choice of finials and cresting
Bolster bar increasing roof span

Fax your order to 01254 286 090, or for more information call 01254 286 080.
Terms and Conditions:

We will beat any like for like quotation based on the presentation of a competitor quote upto 31st January 2013. We reserve the right to deem what is a 'like for like' glass or polycarbonate specification based on size and quality. Delivery charges and delivery exclusions apply. Standard terms apply.