BBA Approved Foiled Roofline
A Foiled Roofline that is BBA Approved
Homeline Building Products, GAPs manufacturer of PVC-U roofline and cladding, has become the first and only manufacturer to offer a BBA approved FOILED roofline system.
Over recent years, Homeline have led the way with foiled rooflines including the introduction of the widest choice of colours available in the industry, including 7015 and 7016 Grey foiled rooflines in different finishes that have proved exceptionally popular over the years and have become GAPs second most popular colour.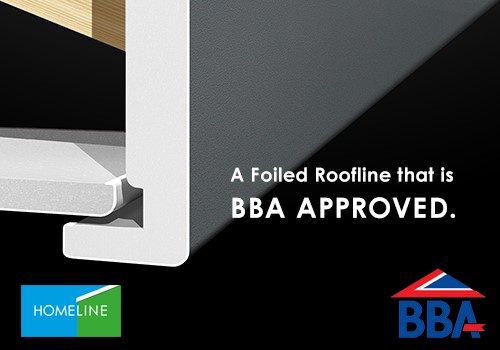 Unique Sales Advantage for all Customers
From customers that are building houses or refurbishing them, Homeline's BBA approved foiled rooflines can offer the edge they are looking for to help win the tender or contract, or to convince Mr and Mrs Jones their new roofline achieves the highest British standard available.
GAP offers an extensive range of Homeline BBA approved foiled roofline including Grey (7015 & 7016), Black, Chartwell Green, Cream and several Wood Effect foils.
Charles Greensmith, GAPs Joint MD commented on the achievement of the new BBA approval, "We're exceptionally proud of the quality of product our team produces, so to have the additional recognition of the widely respected BBA to back up our foiled roofline system is exceptionally pleasing. To be the first to market with this new foil accreditation is great news too. From the general roofline installers to nationwide house builders that we serve, we expect this will provide them the edge they need in a competitive market. We'll now focus on working towards the next innovation, product improvement or accreditation that we feel will help benefit our customers."
BBA approved foiled rooflines are available from GAPs extensive network of depots across the country. Click here to find your nearest GAP depot.
The new Homeline BBA foil certificate can be downloaded here.