New Bolton Depot Now Open
The new GAP Bolton has opened its doors to customers following a successful move.
Only 300m around the corner from the old depot, the new GAP Bolton on Oakhill Trading Estate is packed full of fitter friendly displays of Homeline rooflines, Homeframe windows, Rockdoors and GRP composite doors. Customers can also see easy to fit Korniche and Skyline roof lanterns, as well an impressive Visofold aluminium bi folding door.

GAP Bolton's new larger footprint allows the depot to not only carry much more stock than before, but to also carry new lines such as EPDM Rubbercover on a roll for customers to take away on the day.
To build on the successful opening day, a supplier demo day will be held in the new depot on 4th March 2020 between 8am and 1pm to showcase the depot and bring together all our key suppliers to show how their products are used and installed to full effect. The Easy Trim butty van will be in place ready to offer food and refreshments on the morning to all customers attending. It will be well worth a visit.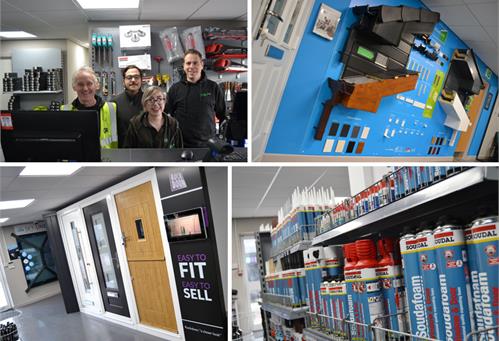 Whilst sad to be leaving Grecian Mill, this is an exciting new era for depot manager Paul Heaton and team at GAP Bolton. Paul commented "Lots of customers have already seen for themselves the difference and were very impressed by what they saw. It's both bigger and brighter and it's great to be able to showcase a wider range of products, whilst also being able to carry much more stock than before to benefit our customers".
One of the first customers through the door was Barry from Per Fit Choice Windows who is a long-standing customer of the depot. He commented, "Wow what a difference this has made and in such a short space of time too. A great effort by all involved. Coming here every day to collect what I need will be much better and more convenient than visiting the old depot".
​Call in and meet the new team and see the depot for yourself.

https://www.gap.uk.com/depot-network/bolton