New Era for GAP Bolton
On the 3rd February 2020, GAP Bolton will open in a stunning new fitter friendly depot on Oakhill Trading Estate, which is only a stone's throw from the existing depot in Grecian Mill on Worsley Road North in Bolton.

The depot move was out of GAPs hands as the existing building was deemed unsafe by structural surveyors, meaning a move was inevitable.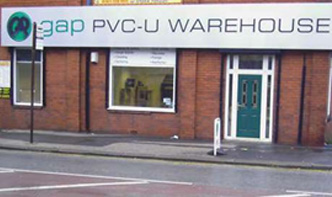 Whilst this is an exciting development for both GAP and its long-standing customers, its also a bitter sweet moment as the depot is intrinsically linked to the history of GAP.

In 1997 a company called ProPlas run by a gentleman called Chris Warburton started trading as a PVC-U stockist in Grecian Mill. Chris was close friends with several members of the team that founded GAP. The relationship between the two companies was exceptionally strong with both companies buying from one another. Chris Warburton sadly passed away in 2004 which led to GAP acquiring the business the following year in 2005. The depot was then run by Jason Kay who is still an integral part of GAP 16 years later.

Part of the Furniture
Whilst we won't be taking the kitchen sink with us when we move, we will be taking a leather chair that was Chris's seat when he ran ProPlas. This seat hasn't been used since then but will make the journey to the new depot to maintain the memory of Chris.

New Depot. New Era
Our new depot in GAP Bolton is twice as big as the previous depot enabling us to carry twice the stock levels. Customers will also benefit from a large car park which will be extremely well received by both our team members and customers who have struggled for years parking outside Grecian Mill on the busy main road. The transformation to the new depot started at the end of last year and our building team is working around the clock to get the depot open.




The new GAP Bolton will be kitted out with an impressive display of Rockdoors, including a Vogue, Vermont, Jacobean and Stable Spy View, plus a range of uPVC windows, a Korniche Roof Lantern, a Skyline Roof Lantern and a set of Made of Trade Visofold Bi folding doors.

Customers will also be able to view a wide range of Roofline products that are on display, including Homeline Fascias, Soffits and Trims and Floplast rainwater systems.

GAP Bolton's Depot Manager, Paul Heaton said, "The new fitter friendly trade counter is perfect for customers to come and view the bespoke products on display, something we didn't have space for at the old GAP Bolton. Whilst Grecian Mill has served both GAP and ProPlas well over the years, the time is right to move forward. It's going to be a fantastic looking depot, allowing us to stock a larger range of products and serve our customers more efficiently. It's an exciting time and the start of a new era and we can't wait to move and get stuck in."

The new depot is set to open on Monday 3rd February– keep your eye out for more information!